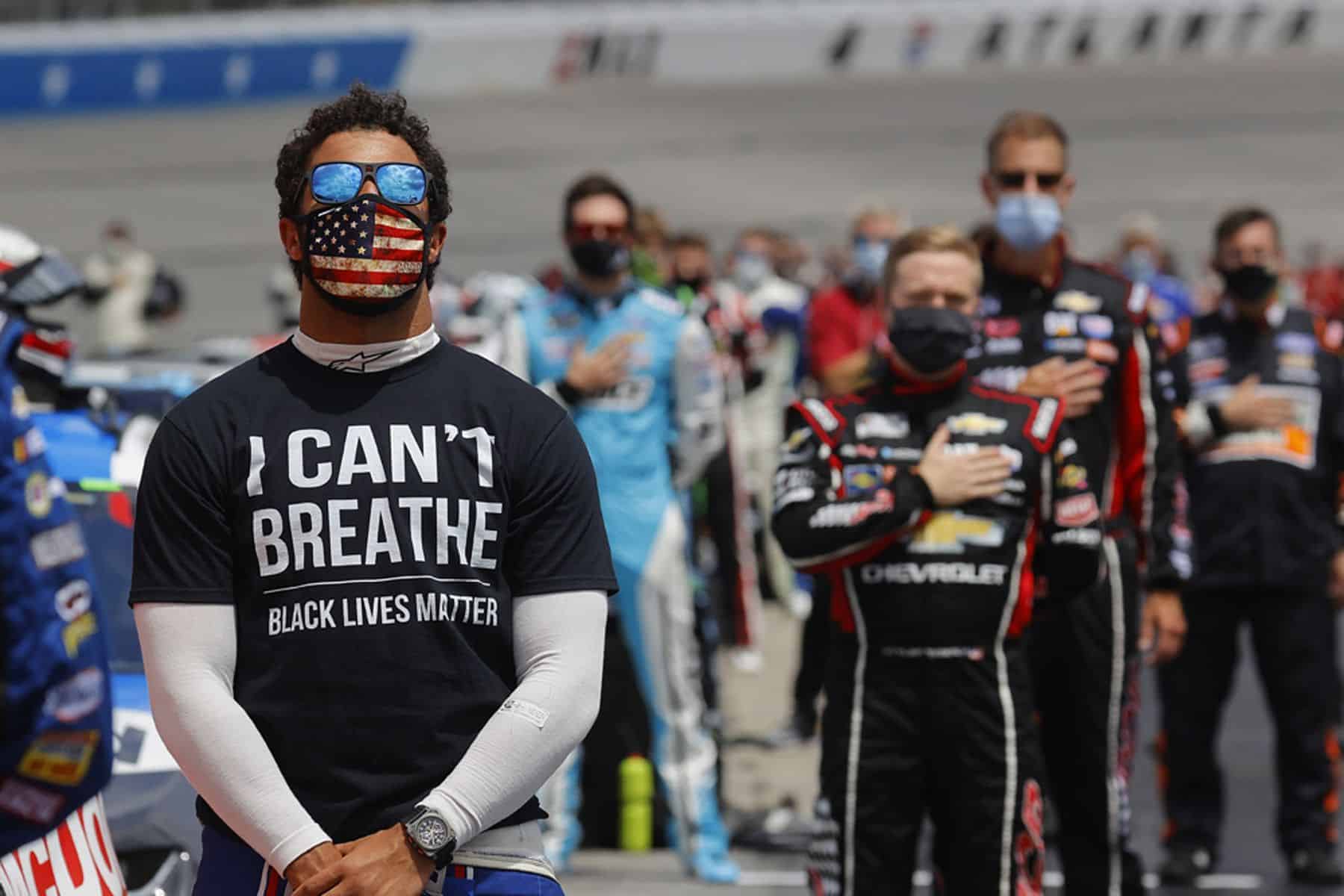 Athletes for Impact Open Letter to Bubba Wallace
Dear Bubba,
For some of us, we have never identified as NASCAR fans. Probably because it never felt like a space that would welcome athletes of color. Yet for years you have persevered and found success. Now, in the wake of your brave move to proudly stand with the Movement for Black Lives and against racism not just in your sport, but in our country, we want you to know that we stand with you.
Many of us know what it's like to feel like the only one – the only one who looks like us in our sport, the only one at the table, or the only one in a moment who is willing to risk it all and speak out – or kneel. The collective response by other drivers to the news you were given about a noose hanging in your garage was beautiful – and your courage to race in that moment and embrace the opportunity to speak your truth was admirable, but the racist backlash you're now facing is wrong. Know that you are not facing it alone.
We stand with you, Bubba.
If they come for one of us, they come for all of us. We will not stand by and allow any athlete who takes a stand for freedom to be singled out or punished. We vow to use our influence and collective power to support you as a person and as an athlete and to stand with you on the side of truth and an inclusive NASCAR and America.
In solidarity,
Athletes for Impact
Laila Ali, Undefeated World Champion Boxer
Seimone Augustus, WNBA
Michael Bennett, NFL
Sue Bird, WNBA
Dominique Byrd, Former NFL Player
Jordin Canada, WNBA
Miles Chamley-Watson, Olympian
Layshia Clarendon, WNBA
Alysha Clark, WNBA
Asia Durr, WNBA
Allyson Felix, Olympian
George Hill, NBA
Cullen Jones, Olympian
Cam Jordan, NFL
Gwen Jorgensen, Olympian
Eric Kendricks, NFL
Kyle Korver, NBA
Jordan Larson, Olympian
Jewell Loyd, WNBA
Simone Manuel, Olympian
Ibtihaj Muhammad, Olympian
Lia M. Neal, Olympian
Alana Nichols, Paralympian
Nneka Ogwumike, WNBA
Kelsey Plum, WNBA
Nzingha Prescod, Olympian
Megan Rapinoe, USWNT
April Ross, Olympian
Mercedes Russell, WNBA
Danielle Scott, Olympian
Breanna Stewart, WNBA
Diana Taurasi, WNBA
Justin Tuck, Former NFL Player
Sami Whitcomb, WNBA
Gabby Williams WNBA
Kenny Young, NFL